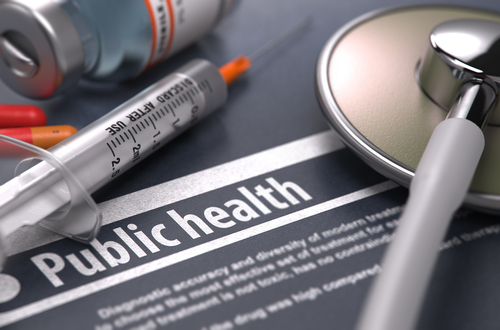 Public health is one of the fast-growing industries in the United States and constantly needs well-trained professionals to fill new positions. Finding a match in choosing a specific career within this industry depends on your interests and skills. Although some jobs only require a bachelor's degree (varies from field to field) the best careers are for those with a Master in Public Health (MPH). Most MPH programs have their focus on the application of public health issues in the industry, preparing students to be leaders in their communities, increasing social awareness and performing various duties in a public health setting, depending on their specialty. Public health is a career field encompassing a vast variety of jobs. There are so many rewarding fields to choose from in the Public Health Field, it is not unusual to be sure what field specifically to concentrate in.
With so many career options in public health, it can be overwhelming to try to answer the question "is public health a good career choice?" The best way to approach this decision is with the proper information. The following occupations in public health are some of the best investments of time and resources for college students interested in serving the public.
Job Growth
Employment growth in most areas of Public Health is well above the national average, but there are specific areas of Public Health that are experiencing more growth than others.
Job Security
The stability of your career equates to less stress and more fulfillment and satisfaction in your career. There are a variety of areas of Public health that can do this effectively. It is important to evaluate what careers are the most in-demand and have available positions available locally. Take time to check out these in-demand careers and which best suit your interests and your skills.
Salaries for Public Health Careers
Salaries for Public health range from $31,500 to well over $100,000 annually, depending on the specific area of interest. Find out what salary you can expect from the career you want to pursue in the public health field. One of the best sites for finding that information is the US Bureau of Labor Statistics.
Personal Satisfaction
Although it is important to consider job security, growth, and salary – it is most important that the area of public health you choose should involve a large degree of satisfaction in career choice. Having an impact on the health of others gives most people pride and a sense of personal satisfaction Whether you want to track down the causes of disease as an epidemiologist or teach the public how to avoid getting sick as a health educator, there is a public health career that will fit your individual interests and skill set.
Social and Behavioral Sciences
When it comes to choosing a public health career, the social and behavioral sciences are a good place to start. Workers in these fields make an average salary of around $80,000 per year with a master's degree in a public health discipline. While the social sciences have traditionally dealt with communal and sociological issues, today's social and behavioral scientists focus on community health and quality of life. A large portion of social workers and human services professionals focus their attention on increasing the quality of public health in a particular community.
Research and activity in this field includes physical health education for underserved communities as well as clinical treatment for conditions such as hypertension, diabetes and obesity. Many university students ask, "Is public health a good career?" The simple answer to this question is that it's a great career choice for smart, hard-working students who truly care about public health.
Public Policy and Administration
Public policy and administration professionals are responsible for managing and coordinating public health programs at the state and local level. These professional researchers and healthcare administrators work with government agencies, hospitals and clinics to ensure that everyone in a local community has access to adequate healthcare. These high-paying jobs require at least a master's degree in public health. Senior-level positions tend to go to job seekers with additional certification or experience.
The jobs in this field range from public health research to healthcare policy analysis and healthcare services management. These careers come with a high level of professional responsibility and high salaries. Health services managers typically make around $98,000 per year while healthcare researchers and analysts earn around $80,000 per year. Managers in this profession are responsible for hiring new workers and implementing new policies in a healthcare clinic, hospital or agency.
Mental Healthcare
Mental healthcare is quickly becoming one of the most important areas of public health. As communities throughout the country continue to deal with addiction, depression and suicide, mental healthcare workers are needed to help mitigate the danger. Careers in mental healthcare don't require as much training as careers in administration or management. College students can expect to start their mental healthcare careers soon after earning a bachelor's degree.
The average salary for this profession is around $46,000 per year. With advanced education, the earning potential increases to around $80,000 per year. Mental healthcare professionals in the top-earning positions can take home $100,000 per year or more. Workers in this field are responsible for psychological counseling, marital counseling, treatment of depression and helping community members cope with stressful experiences, including acute trauma and post-traumatic stress disorder.
Medical Healthcare
Medical healthcare workers have a wide range of jobs available to them. From nursing to practicing medicine, the careers in medical healthcare are rewarding for those looking for a traditional medical career with a high salary and plenty of growth potential. As the population expands and healthcare options become more widely available, new healthcare practitioners will be needed to serve communities across the country. The communities most in need of healthcare workers are the underserved communities in rural and urban areas.
Is public health a good career for doctors and nurses to get into? It turns out that public health is a great choice for professional healthcare workers to specialize in as graduate students. For a job seeker with a master's degree in nursing with a focus on public health, the employment opportunities are very good. Medical doctors who specialize in public health play an important role in serving communities and helping to maintain the optimal health of the public. While it is possible to begin a nursing career with an associate's or bachelor's degree, public health careers in nursing typically require a graduate degree or certificate.
Global Health
As global communities become more interconnected, the field of global health continues to grow in importance. Global health research deals with the policies and planning needed to treat healthcare priorities such as HIV, ebola, malaria and coronavirus. Some global health professionals will be able to find work with only a bachelor's degree while most professionals will need a master's degree or higher.
Global health jobs can be found in international non-government organizations and nonprofit groups such as Doctors Without Borders and Red Cross. Positions with these organizations tend to be competitive. Job requirements include fluency in foreign languages, experience working in professional medicine, advanced education and possibly experience working as a volunteer in foreign countries.
While these jobs can be demanding and may come with a great deal of responsibility, they aren't necessarily the highest-paying jobs in the medical profession. Doctors and nurses enter global health careers out of a sense of altruism for their fellow human beings. These jobs are for humanitarian workers, and they often involve some amount of personal sacrifice.
Epidemiology Research
Epidemiology is an important field with excellent employment and earning potential for workers with advanced education. Epidemiologists are like the codebreakers of global pandemics such as the zika virus and coronavirus. They work with doctors and healthcare administrators in various communities to implement strategies for the treatment of communicable diseases. Epidemiologists are responsible for helping to stop the spread of viruses and contagions in local communities and ultimately eradicating diseases by finding and isolating the origin.
Research in this field covers demographics and sociological data that contains valuable information about the spread of diseases. Epidemiologists may work in universities, hospitals, clinics and nonprofit organizations. They can perform lab research or work directly with communities dealing with outbreaks. The average salary for workers in this occupation is around $71,400 per year. The highest-earning ten percent of epidemiologists can take home $100,000 or more per year. The salary potential in this field depends on education, experience and job type.
Environmental Health
The answer to the question "Is public health a good career choice?" is generally "yes," but some people may be better-suited to public healthcare occupations than others. For example, environmental health experts are researchers and policy advocates who work in natural settings to measure the health of ecosystems and their ability to provide food and water for human populations. Environmental health researchers keep track of factors such as pollution and average temperature to ensure that natural processes continue to occur in the surrounding environment. The topics of interest in environmental health include pollution, precipitation, wildlife activity and sustainability.
Getting a job in this field requires at least a master's degree although higher-paying positions with greater responsibility may require advanced training or a doctoral degree. The average salary for environmental health researchers is around $63,000 per year while the upper end of the pay scale extends to around $95,000 per year. After a few years of working full-time in this field, workers can begin to move up in their careers and take on leadership positions within their organizations.
Emergency Healthcare Management
Emergency healthcare is a top priority of governments around the world. One of the functions of the public health professions is to provide emergency assistance to large populations in times of disasters such as hurricanes and wildfires. Professionals in this field must be able to travel to locations where communities are impacted by disruptive events and help to organize healthcare services for the general public.
Public emergency healthcare workers assist doctors and nurses to administer first aid to people who may be suffering from injuries, dehydration or fatigue. During a hurricane or other disaster, many people may not have access to medication or personal healthcare products such as insulin. Emergency healthcare administrators help to make these products available to those who need them. They must ensure that everyone has access to the medical resources they need for a safe and comfortable experience during an emergency.
The pay range for emergency healthcare workers is around $65,000 to $95,000 per year, with higher salaries going to those with more education and experience. A master's degree is typically required for this profession although some entry-level positions are often available to applicants with only a bachelor's degree.
Public Health Education
Public health education is a necessary part of the growing public healthcare industry. As demand for public health workers grows, new educators will be needed to train and prepare these professionals for their jobs. Professional educators span the spectrum of public health occupations from nurse educators to public policy advocates. A master's degree can make it easier to find high-paying employment, but many jobs are available to those with only a bachelor's degree.
In any public health education job, the most important point is to stay up-to-date on current public health information and be able to communicate that information in a straightforward and uncomplicated way. Communication skills are very important in this profession. Educators must know how to explain complex subjects in plain language and how to tailor their presentation to a particular audience. When speaking to doctors and disease experts, for example, the language needs to be more precise and technical than when speaking to the general public.
Public health education is a great career for those with a passion for communication and public interaction. The average salary range for this occupation is around $53,000 to $85,000 per year.
Community Healthcare Outreach
One of the newer public healthcare occupations to emerge in the 21st century is community health work. This profession is similar to social work but with an emphasis on public healthcare education and community treatment. Community health workers perform an important job by informing members of the public about healthcare concepts and gathering data through written surveys and in-person interviews. These professionals are responsible for providing emergency training, counseling and disease prevention for communities throughout the country.
Community healthcare jobs are typically entry-level positions that require only a high school diploma or associate's degree to get started. The average salary for these workers is around $33,000 to $66,000 per year, depending on the location and the worker's level of education and experience.
Healthcare Communications
Another important career choice for public health professionals is healthcare communication. This broad field includes jobs such as healthcare journalists and medical writers. These professions are vital for the quality of public health because they play a major role in disseminating information to members of local communities.
As the issue of public health grows in complexity and importance, the role of healthcare journalists and writers will continue to evolve. Professional writers are needed to craft messages on common healthcare topics for public consumption. Such topics include healthy eating, exercise, disease prevention and the treatment of common conditions such as diabetes.
While some healthcare writing jobs require advanced education, most jobs are available to applicants with only a bachelor's degree. Professional certification is also available for job seekers looking for a hiring advantage. The average salary for this occupation is around $45,000 per year. With experience and education, healthcare journalists and writers typically earn around $65,000 per year.
Healthcare Biostatistics and Informatics
Healthcare in the 21st century relies on big data to make predictions about public health trends and community health issues. Biostatisticians and medical informatics technicians study huge collections of healthcare information using data science and machine learning algorithms to isolate important pieces of information from the rest. Biostatistics is a growing field of public health that analyzes data from medical testing and surveys to help create a process for efficiently treating large numbers of healthcare patients. It's one of the highest-paying new professions in the public healthcare sector. Biostatisticians must have at least a master's degree in statistics with a focus on public health or an equivalent degree. The average salary for these workers is around $85,000 per year, and it can reach as high as $112,000 per year in some locations.
Keep in mind that no matter what area you choose as a concentration, as a public health professional you will be working toward improving communities and helping individuals. Disease prevention and health promotion are a large part of your public health career with a focus on the physical, mental and environmental health of all types of populations.
The key to pursuing a public health career is getting started in an accredited degree program as early as possible. Not all occupations require advanced education, so a quicker degree program could be a better choice for some students. For college students interested in biology, mathematics, data science, statistics and healthcare, the answer to "is public health a good career?" is a resounding "yes."
Related Resources: