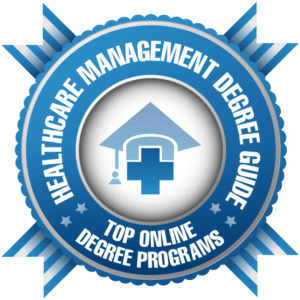 Welcome to our ranking of the top online MSN nursing education degrees.
Healthcare continues to be one of the fastest-growing, most in-demand sectors of the U.S. economy. There has also been an ongoing nursing shortage that some predict is about to get much worse. While this is a problem in many respects, it's great news to anyone who plans to earn a degree in nursing. And nurses who go on to earn their master's degree will have even better job prospects, as the specialized clinical knowledge and leadership skills they'll gain are practically invaluable to employers. Given that the demand for qualified healthcare practitioners isn't going to decrease any time soon, students who earn their MSN in Nursing Education – and who will be responsible for training the next generation of nurses – are especially valuable.
Thanks to the power of technology and the growing availability of online programs, it's now easier than ever to earn an advanced nursing degree without ever visiting a college campus or taking time off from work.
Finding the 25 Best Online Nursing Education Master's Degrees
Our search for the best programs began on College Navigator, an online higher education database that we used to compile a list of all public and private non-profit colleges in the United States that offer online graduate nursing education programs. We then narrowed our search to only include programs that offer coursework 100% online (with the exception of required practicums and occasional campus visits for workshops, orientation, etc.). In addition, all of our top-ranked online masters in nursing education programs are accredited by the Commission on Collegiate Nursing Education (CCNE).
Finally, we ranked all the eligible programs according to these five metrics:
Hands-on Experience, as determined by the total number of required practicum hours (30% of Total Score)
Practicum Balance, as determined by the inclusion of required practicums in both academic and clinical/patient-care settings (25% of Total Score)
Knowledgeable Professors, as determined by the percentage of full-time nursing faculty with doctoral degrees (10% of Total Score)
Experienced Professors, as determined by the percentage of full-time nursing faculty who are actively practicing in the field (25% of Total Score)
Affordability, as determined by the approximate cost per credit to attend (10% of Total Score)
The data for the last three categories (professors and affordability) came from the nursing school profiles on U.S. News' online education website. In the event that data was not available, we obtained cost information from the school's website instead. All other data came directly from the colleges' websites.
Please be advised that – especially when it comes to tuition – exact figures are subject to change and can depend on a number of factors that are unique to each individual applicant. The best strategy for getting an accurate tuition quote is to speak directly with an admissions representative at the university.
---
25. Texas A & M University-Corpus Christi
Online MSN Nurse Educator Program
Website
At Texas A&M Corpus Christi, working nurses and recent BSN graduates alike can leverage their experience and expertise into a career in nursing education. Corpus Christi is home to one of the best MSN education online programs in the country, providing students with technical, hands-on training in nursing theory, advanced practice, and – above all – teaching strategies and curriculum development. Indeed, the experiential component of the curriculum comprises the single largest component of this program's credit requirement. To complete this part of the program, students participate in clinical practicums while receiving guidance and regular evaluations from an assigned mentor.
Cost per Credit: $780
Score: 40
24. Carlow University
Online Master of Science in Nursing: Education and Leadership
Website
Carlow University offers a number of MSN specialization offerings, but the Education and Leadership program is the only one that is available exclusively online. This is good news for aspiring nurse educators, who stand to benefit from an accelerated and affordable online masters in nursing education that suits full-time students and professionals equally well. Program participants can complete all 33 credits of Carlow's MSN program in as little as 20 months, taking relevant courses in management, communications, and statistics – not to mention advanced topics in nursing like policy and ethics – along the way.
Cost per Credit: $801
Score: 41
23. University of Texas-El Paso
Online MSN Nursing Education
Website
The University of Texas – El Paso's School of Nursing offers a top MSN nursing education degree online. Over the course of just 33 to 49 credit hours (requirements vary between the thesis and non-thesis options), this comprehensive program equips degree candidates with a range of pedagogical and analytical tools that will be advantageous in academic as well as healthcare environments. The theoretical component of the curriculum culminates in a supervised nurse educator experience on campus. However, this is the only time students will need to travel for a course; all other classes – as well as many useful resources – are available entirely online.
Cost per Credit: $918
Score: 42
22. Indiana Wesleyan University
Online MS Nursing – Nursing Education
Website
At just $557 per credit hour, Indiana Wesleyan University's affordable online nursing education master's degree is already one of the best values on this list. But it's also important to note the depth of IWU's nursing education curriculum; courses in advanced pharmacology and pathophysiology (both of which are required, of course!) illustrate the sheer variety of IWU's offerings in clinical topics. From there, degree candidates tackle biostatistics, epidemiology, research methods, and even more advanced nursing theory – all before encountering their major coursework in nursing education. And while this path may seem rigorous, it's the best way to ensure that graduates obtain true subject mastery and are prepared to teach others.
Cost per Credit: $557
Score: 43
21. University of Mary
Online MSN Degree Program: Nurse Educator
Website
The University of Mary's affordable online graduate nursing education program is a great way for nursing bachelor's to upgrade their credentials. With an MSN in nursing education, UM graduates can find rewarding work training the next generation of nurses in a university, hospital, or any other clinical setting. And while this program is offered online, UM's Benedictine tradition of servant leadership demands a considerable amount of practical experience in the field. The program's 500 required hours of supervised training/service is among the highest on this list, and undoubtedly contributes to the success UM graduates find in their careers.
Cost per Credit: $570
Score: 44
20. University of Texas-Tyler
Online Nursing Education MSN Degree
Website
Fully online courses, flexible scheduling, and heavy course rotation combine to make the University of Texas –Tyler's accredited MSN education online program one of the most convenient in the country. All of these features mean that degree candidates can effectively take any course at any time they wish (provided they meet the prerequisites), allowing them to set the pace of their education. And with over 20 courses to choose from – nearly half of which feature some clinical component – there are innumerable pathways to this degree. Nevertheless, every journey at UTT ends the same way: with five full semesters of practicum training in primary care and education.
Cost per Credit: $458
Score: 45
19. Thomas Edison State University
Online Master of Science in Nursing: Nurse Educator
Website
The curriculum for Thomas Edison State University's accredited MSN education online program is divided into four main categories: Core (such as nursing policy, leadership, and ethics), Direct Care, Specialty, and, finally, Practicum Courses. Completed in this order, TESU's MSN program is able to methodically build on degree candidates' previous knowledge and experience. Although this fastidiously-designed curriculum leaves little room for electives, it makes up for it with a wealth of high-quality, hands-on experience. This includes a total of 300 clinical hours, which program members complete through two back-to-back practicums in a single facility.
Cost per Credit: $668
Score: 47
18. Central Methodist University
Online Master of Science in Nursing: Nurse Educator
Website
Three core values form the foundation of Central Methodist University's MSN program: leadership and managerial skills, research-oriented learning, and evidence-based practice. These tenants go a long way in providing an environment where advanced nursing students – whether they want to pursue clinical leadership or education – can develop both technical competency and professional confidence. Those in the latter track will take undergo targeted training in subjects that span from "Curriculum Development" and "Evaluation Methods" to "Issues and Trends in Postsecondary Education." Before graduating from this top online masters in nursing education program, degree candidates will also need to complete 300 hours of practicum and residency work.
Cost per Credit: $380
Score: 50
17. Briar Cliff University
Online MSN: Nurse Educator
As "the first and only accredited graduate nursing program in northern Iowa," Briar Cliff University has already achieved local prominence. But its MSN Nurse Educator degree, which features convenient, online classes; experienced faculty; and a GRE-free admission process, deserves recognition on a much larger scale. Busy professionals will especially love that this accredited online nursing education master's degree requires absolutely no campus visits. And while students do have to complete nearly 300 clinical hours, BCU will help them set up preceptorships at a site close to home to minimize travel time.
Cost per Credit: $495
Score: 51
16. University of Texas Medical Branch
Online MSN Nurse Educator Program
Website
The University of Texas Medical Branch has been a leader in healthcare training for well over 100 years. In fact, it was the first unified hospital and medical school in the entire country! But while UTMB may have historic roots, its current goals are decidedly future-oriented. The school's top online nursing education master's degree, for example, makes use of emerging technologies and virtual classrooms to prepare students for the unique healthcare challenges of the 21st century. Program participants will even have the opportunity to teach in a collegiate setting as part of their practicum experience, ensuring that they have the skills and experience to succeed in their chosen field.
Cost per Credit: $675
Score: 54
15. Mount Carmel College of Nursing
Online Master of Science Program: Nursing Education
Website
Professionals and other busy adults will appreciate the convenience of attending Mount Carmel College of Nursing. In addition to online coursework, MCCN also supports a three-year, part-time schedule that makes for a stress-free experience. Over the course of seven semesters (including summers), degree candidates in MCCN's accredited online masters in nursing education will study everything from advanced physiology and pathology to family health, curriculum development, and instructional theory. But by taking just two courses at a time and splitting the practicum requirements up into two segments, students can feel confident that they will have plenty of time to absorb the material – and won't feel overwhelmed in the process.
Cost per Credit: $495
Score: 55
14. Ball State University
Online MS in Nursing: Nurse Educator Track
Website
Ball State's MSN program is not for the faint of heart – but then again, neither is being a nurse educator! The university's top MSN education online program offers a compact, high-value curriculum that packs a serious punch into just seven short semesters. Students work their way through a course schedule that includes a six-credit Research Core, an 11-credit Nursing Core, and finally a 19-credit sequence in the "Educator Role." Along the way, they will complete three different practicum experiences that prepare them for a range of professional occupations. Two of these focus on clinical subjects (health promotion/disease and health assessment) while the third – and longest – addresses role expectations for future nurse educators.
Cost per Credit: $590
Score: 56
13. University of Toledo
Online Master of Science in Nursing Education
Website
Although the University of Toledo doesn't require applicants to its MS in Nursing Education program to have professional work experience, it helps if they have had some exposure to the field. This is because UT takes a didactic approach that leverages students' "past learning, personal and professional goals, and […] practical experience" to create truly a personalized education for each individual. In fact, the customizability of the curriculum is part of what makes this one of the best online masters in nursing education programs. Degree candidates can even choose one of three ways to complete their capstone requirement: a comprehensive exam, thesis paper, or field experience.
Cost per Credit: $548
Score: 60
12. Indiana University-Purdue University-Indianapolis
Online Master of Science in Nursing: Nursing Education
Website
We're not the only ones who have recognized that IUPUI is home to one of the nation's best online masters in nursing education degrees; U.S. News also ranked the university in the top 20 in its most recent report of graduate nursing programs. And it's little wonder why. After all, with nearly 70% of nursing faculty holding doctoral degrees and nearly as many (63%) still actively engaged in nursing practice, students can rest assured that they will be learning from verifiable experts in the field. And while IUPUI's tuition may not be the most affordable, the knowledge, insights, and connections that this program has to offer make it a worthy investment nonetheless.
Cost per Credit: 1,499
Score: 61
11. Angelo State University
Online Master of Science in Nursing: Nurse Educator
Website
From faculty expertise to hands-on experience, Angelo State University has everything that one would expect from one of the top MSN nursing education degrees online. The curriculum is especially impressive; every course is unique and highly relevant, so students don't have to worry that any of their tuition dollars will go toward "empty credits." Classes like "Health Policy and Ethics," "Pharmacotherapeutics," and "Population Health Epidemiology" form the MSN Core, while a separate Nurse Educator module covers teaching strategies, curriculum design, and program evaluation. On top of all that, program members will also complete a total of 200 clinical hours in both general health and education topics.
Cost per Credit: $812
Score: 66
10. Nebraska Methodist College of Nursing & Allied Health
Online MSN Nurse Educator
Website
Designed with busy working nurses in mind, Nebraska Methodist College's accredited online nursing education master's degree provides much-needed flexibility. The 21-week program has three yearly start dates, while the 100% online curriculum features five to 10-week classes and 24/7 access to course materials. And for applicants who are worried about costs, Nebraska Methodist College's generous Nurse Faculty Loan Program can help ease the financial burden with its 85% loan forgiveness. The only catch? Graduates will need to complete four years as a full-time faculty member at a nursing school anywhere in the country.
Cost per Credit: $698
Score: 67
9. SUNY Polytechnic Institute
Online MS Nursing Education Program
Website
SUNY Poly offers one of the best online masters in nursing education for students who intend to pursue a PhD after earning their MSN. The program provides a broad view of nursing education with courses that range from the esoteric ("Theoretical Foundations for Nursing Practice") to the eminently practical ("Grant Proposal") while preparing grads for work in academia or in-house staff development. Students can enroll full-time or part-time, depending on their availability, but both programs culminate in a three-credit internship. Note that although students must attend an in-person orientation each August, all actual coursework is available 100% online.
Cost per Credit: $925
Score: 68
8. Texas Tech University Health Sciences Center
Online MSN Education Track
With its focus on incorporating technology best practices in nursing education, Texas Tech provides a timely and practical curriculum. Students who choose to earn Texas Tech's MSN nursing education degree online can expect to complete most of their work from the comfort of home, although the school does require an on-site lab at its Lubbock campus as part of its core coursework. Grads will wrap up their 42-credit hour degree program with a comprehensive on-site practicum that highlights leadership in nursing education (just one of four courses centered on this topic).
Cost per Credit: $942
Score: 71
7. Texas Woman's University
Online Master's in Nursing Education
Website
For aspiring nurse educators seeking a female-friendly learning environment, TWU could be a great fit: not only is admission limited to women, but almost all of the instructors for this affordable MSN education online program are female. And although program members can certainly complete their coursework online, local students will benefit from TWU's nationally recognized simulation laboratories. Located at the Dallas campus, the labs provide simulation experiences that range from simple assessments to more complex intensive care and emergency scenarios. But no matter where students reside, they'll work with TWU faculty to find an appropriate facility at which to complete their required practical experience.
Cost per Credit: $688
Score: 72
6. Kent State University at Kent
Online MSN: Nurse Educator Concentration
Website
Kent State wants to make its top online graduate nursing education programs accessible to all students, regardless of their financial state. It does so by offering a whole host of ways to reduce the bottom line. From grants to scholarships to campus-based work-study programs, Kent State gives all students the opportunity to earn a top-notch degree. Speaking of access, the 100% online coursework requires no on-campus meetings or classes and allows program members to enroll either full- or part-time. One more perk? All graduates will meet the education requirements to apply for the National League of Nursing's Certified Nurse Educator (CNE) certification.
Cost per Credit: $837
Score: 79
5. Southern Illinois University -Edwardsville
Online Nurse Educator MS
Website
Although students from around the country can enroll in SIUE's top online nursing education master's degree program, it's perhaps best suited for residents of southern Illinois and the St. Louis metropolitan area. That's because faculty and staff are dedicated to finding practicum experiences that truly fit a student's career goals, and they can best do this locally. Even so, applicants from all across the country stand to benefit from SIUE's rigorous, theory-based coursework and comprehensive terminal research project. The latter even includes a scholarly literature review and oral presentation that helps prepare graduates to sit for the NLN Nurse Educator exam.
Cost per Credit: $733
Score: 86
4. University of Detroit Mercy
Online MSN in Nursing Education: Clinical Nurse Specialty in Adult Gerontology
Website
For a niche program tailored towards clinical work in adult gerontology, check out the University of Detroit Mercy. The school's accredited online graduate nursing education programs include one of the most unique options on this list, making it a great fit for anyone interested in highly specialized work. It's also a solid choice for students who crave hands-on experience – the University of Detroit Mercy's program requires 120 teaching practicum hours and a whopping 500 clinical practicum hours! But despite the challenge, this program still offers plenty of convenience; students can enroll full- or part-time and can devise four- or five-year course plans if they need extra time to complete their work.
Cost per Credit: $925
Score: 87
3. Regis University
Online MS in Nursing: Leadership in Healthcare Systems – Education Focus
Website
In keeping with its Jesuit affiliation and values, the Denver-based Regis University ensures that students pursuing its affordable MSN nursing education degree online can participate in plenty of service learning opportunities during the seven-semester program. But even non-religious students will find that Regis has plenty to offer, including both fully online and a hybrid versions of the program. The broad curriculum focuses on ethics, collaborative work, financial management, and myriad advanced education topics, among other subjects, giving graduates the skills and experience to work in a variety of clinical and non-clinical settings.
Cost per Credit: $620
Score: 90
2. Texas Christian University
Online MSN: Nursing Education
Website
Thanks to the diverse coursework available through its 36-hour accredited online masters in nursing education, Texas Christian University provides a flexible degree that should meet the needs of all students. For example, program members can take advanced courses in either gerontology or pediatric care, including 120 clinical practicum hours working with either population. And for students based in the Fort Worth area, TCU also offers access to its top-notch collaborative Health Innovation Institute, which includes four separate centers focused on various kinds of health research, such as oncology or collaborative practice.
Cost per Credit: 1,480
Score: 98
1. University of Texas-Arlington
Online Master of Science in Nursing in Education
Website
For an affordable MSN education online program that doesn't sacrifice quality for cost, it's difficult to beat UT – Arlington. The plan of study is definitely challenging; advisors even recommend that students limit their working time, as they should expect to spend 15 hours a week studying for each three-credit class. But by making the commitment, degree candidates will gain access to an innovative curriculum that includes unique teaching modules, hands-on simulations, and more than 200 hours' worth of required clinical experiences. In the end, UT – Arlington students graduate with all the skills they need to succeed in multiple professional settings – plus they'll be eligible to sit for the national Nurse Educator certification exam.
Cost per Credit: $494
Score: 100
This concludes our ranking of the top online graduate nursing education programs
Related Resources:
Sources: